Thought of the Week:
Last week, my wife, two kids, and I headed to Boulder, Colorado, for a family wedding. We hiked Boulder's famous Flatirons and walked the city's trendy Pearl Street. I don't think anyone would be surprised to hear me say that Boulder and Washington, D.C., are two very different places. The differences stretch far beyond scenery (mountains vs. monuments), elevation (5,318' vs. 410'), and population (108,000 vs. 702,000), and while life just seemed different nestled in the foothills of the Rockies, unlike an earlier summer trip I took to Ireland, it never felt like I left the country. So, it was somewhat surprising for me to read that according to the University of Virginia's Center for Politics, nearly 6 in 10 Biden voters and nearly 8 in 10 Trump voters agree that like-minded states (blue and red respectively) ought to secede and form their own separate countries. No other statistic I've read better underscores the divergence now taking place as red states get redder and blue states get bluer. What this likely dual wave at the state level, as a result of the upcoming November midterm elections, will mean is that there will be fewer checks on partisan excesses, which will complicate a broadening range of issues for business. With fewer representatives coming from the political center, companies will have to navigate a widening gap in policy direction between red states and blue states. Moderate Democrats who held back the excesses of progressivism and the free market mantra of Republicans that curtailed populist impulses have both retreated in recent election cycles, and the expectations for November suggest they will continue to fade. Firms will need to prepare to navigate the widening divergence between states. While cultural quarrels might seem like the obvious place businesses will be pressed, things will not stop there. Companies can expect competing demands on an array of business and economic priorities on everything from paid family leave mandates to salary disclosure requirements to board member diversity quotas. What's more, companies will need to decide whether to empower unions or embrace right-to-work laws. While blue states are divesting from fossil fuel companies, red states are divesting from banks and management firms that demand environmental, social, and governance commitments. With a number of blue states following California's decision to ban the sale of new gasoline-powered automobiles by 2035, red states have begun to push back. As the gap in policy direction widens, stakeholders and policymakers on both sides will turn up the heat on firms to take a stand; companies will face growing pressure to conform and accept either the red or the blue state version of reality. Unfortunately, the more ideological policy stances will mean that fewer legislators will focus on economic growth and business-friendly reforms. Companies will face a "Catch-22"—by taking a stand or taking no stand at all—they are sure to alienate a swath of policymakers and stakeholders on opposite sides of the issue. As competing pressures from growing partisan splits between state legislatures arise, businesses will find themselves needing to adjust how they approach government and public affairs.
Thought Leadership from our Consultants, Think Tanks, and Trade Associations
Eurasia Group Sees U.S. Tightening Cross-Border Investment Restrictions to Compete with China. The Biden administration and Congressional legislators are increasingly focusing on cross-border investment restrictions—in addition to export controls and sanctions—to deny China key technologies in order to manage competition with Beijing and shape the strategic environment. New restrictions on American outbound investment to China are now more likely than not due to a White House executive order, Congressional legislation, and an expansion of certain CHIPS Act provisions. At the same time, the Committee on Foreign Investment in the United States (CFIUS) is reviewing and coordinating with like-minded governments on an unprecedented number of inbound investment transactions, with increasing attention to China-related deals involving emerging technologies, even some of which have little direct connection to the U.S. Last week, President Biden issued an executive order that, while not changing the CFIUS processes, provides supplemental guidance regarding specific national security risks that CFIUS will consider when reviewing covered transactions.
Eurasia Group Says a Hawkish Fed is Prepared to Accept Recession to Reduce Inflation. The Federal Reserve's 75bp basis point rate hike yesterday (to 3.25%) was anticipated, but the median expectation of FOMC participants that rates would need to rise to 4.4% this year and 4.6% in 2023, and remain there for some time, caught financial markets off guard. Although soft landings are possible, they are rare, and analysts are now convinced that the Fed is prepared to accept a recession as the cost of a durable reduction in inflation. The critical question is how high rates will need to go to achieve that result. The most likely scenario is a recession beginning some time in 2023, with unemployment rising to 5%, which exceeds what the Fed can say publicly at this point. The risk on rates is to the upside, with the central bank's own forecasts signaling that a 5% fed funds rate may be required. Although the Fed resists the notion that it sets policy for the world, stressing the domestic nature of its mandate, Chairman Powell acknowledged that the Fed is paying increasing attention to developments around the world. Nearly all analysts now agree that more hikes will be needed to bring inflation back down near the 2% target.
National Journal Notes that the Rose-Tinted Glasses May Have Come Off for Democrats. As August drifted into September, Democrats enjoyed a sugar high over the final months of the summer following the Supreme Court's decision to overturn Roe v. Wade. Now comes the likely crash back to reality. Yes, Democrats scored major special election victories in New York and Alaska; had closer than expected showings in Nebraska and Minnesota; and early trends in Arizona, Georgia, Pennsylvania, and Ohio have Democrats believing they will be able to defend their Senate majority, more recent polling in competitive races shows contests beginning to revert to their pre-Dobbs environment. The recent tidal wave of Republican ad spending has broken Democrats' monopoly on the airwaves, and polls this week indicate GOP advances in key races. In the Ohio Senate race, the latest Emerson College poll found author J.D. Vance (R) opening a 4-point lead on Rep. Tim Ryan (D), and an Atlanta Journal-Constitution poll from found former NFL running back Herschel Walker (R) leading Sen. Raphael Warnock (D) within the margin of error. For as much much hope the summer offered Democrats, it seems like the midterm election will be a slog. Life starts all over again when it gets crisp in the fall, and so do campaigns.
Politico Reports Lawmakers are Eyeing a Lame Duck Session to Renew Trade Programs. Leading economic lawmakers are eyeing the post-midterm lame duck session of Congress for potential passage of a group of trade bills they left unfinished this summer. A package of trade provisions was stripped from Congress's $52 billion microchip subsidy package before it passed in July—part of an effort to ram through a slimmed-down industrial policy program to confront China, which meant that a number of federal trade programs remained, expired, including assistance payments for victims of offshoring and two key tariff exemption programs. Though policy differences continue, trade lawmakers in both parties say they hope to reach agreements to finalize the provisions by the end of the year. The trade talks "are not on hold," says Sen. Crapo (R-ID), the top Republican on the Senate Finance Committee, who believes a range of trade provisions can be included in a year-end tax extenders bill. House Ways and Means Chair Neal (D-MA) agrees, saying, "Many of the tax considerations will be done at the end" of the Congressional session. One of those priorities is an expanded Trade Adjustment Assistance (TAA) program, which provides payments to victims of outsourcing. The program has been a sticking point for months, as Republicans refuse to renew it unless the Biden administration opens new trade negotiations with foreign nations that include new market access for American companies. The GOP argument is that TAA will not be done unless trade agreements are being negotiated, and the White House has not moved forward with any agreements to talk about. Even in the absence of an agreement to renew TAA, Republicans say they may be willing to cut separate deals to renew expired tariff exemption programs—the Generalized System of Preferences (GSP) and Miscellaneous Tariff Program (MTB)—on their own. "GSP and MTB should have been done a long time ago," said Rep. Adrian Smith (R-NE), who is campaigning for the top Republican slot on the Ways and Means Committee in the next Congress. SCOA Washington office staff first brought expiration of the MTB to Congressman Smith's attention.
In Other Words
"I've consistently said for two years now that the Senate is 50-50, the country is 50-50, and I think the outcome for the Senate is likely to be 50-50. We've got a bunch of hard fought races, we're all giving it our best on both sides, and I think it's a jump ball," Senate Minority Leader McConnell (R-KY) handicapping the Senate.
"This war is about extinguishing Ukraine's right to exist as a state, plain and simple. And Ukraine's right to exist as a people. Whoever you are, wherever you live, whatever you believe, that should make your blood run cold," President Biden in a speech to the UN General Assembly.
"You're the president of the United States, you can declassify just by saying it's declassified, even by thinking about it," Former President Trump.
Did You Know?
Queen Elizabeth was the first British monarch to speak before Congress, although Kalakaua, King of Hawaii, was the first royal to do so in 1874. Winston Churchill holds the record for most times a foreign dignitary has spoken in the chamber with three, in 1941, 1943, and 1952.
Graphs of the Week
According to the Bureau of Labor Statistics, on average Americans spent more on taxes than they did on food, clothing, and health care combined. In 2021, American "consumer units" spent an average of $15,495.28 on food, clothing, and health care combined, while paying an average of $16,729.73 in total taxes to federal, state, and local governments.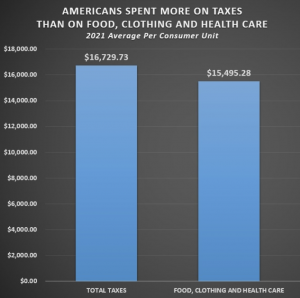 .