Thought of the Week   
Hurricane Ian made landfall in Florida earlier this week as a Category 4 storm, is currently battering the Carolinas, and is expected to hit Washington this weekend as a tropical storm. The hurricane is reportedly the fifth-strongest to ever hit the U.S., and disaster models estimate that the storm could cause $67 billion or more in economic damages. Ian is the second significant storm, after Hurricane Fiona, to hit the U.S. and its territories in less than two weeks. While the federal government has already sent millions of meals and liters of water to Florida for distribution, companies are also providing funds and product donations in response to both weather events. In fact the National Association of Manufacturer's (NAM) Emergency Response Committee (ERC) works year-round with nonprofit partners to provide NAM members (SCOA is a member of NAM) with disaster-preparedness resources and training and also helps manufacturers activate to aid their communities when disaster strikes. Among the ERC's hurricane-preparedness advice for employers is:
Plan: develop a hurricane-preparedness plan and ensure that all employees understand it before hurricane season starts.
List: generate a checklist of tasks to do during the season, starting with the first day.
Set up: create and offer remote work sites for affected communities and employees.
Support: Provide support to the families of employees who live in disaster-hit areas.
While it is not surprising that companies activate to assist their employees and the communities where they do business during times of natural disaster, less understood is the good-will benefits of philanthropy that can accrue to corporations during times of crises. Research from the Conference Board shows that people like to do business with socially responsible brands. What's more, the same research has proven that employees who work for organizations that donate to help those in need have higher morale and retention rates than those who do not. Individuals want to feel like they are part of something larger than just themselves, and increasingly they are looking to the companies they work for to provide this. While helping people in need can provide a boost to a company's PR, on the flip side, firms that choose to stay on the sidelines during natural disasters face the prospect of negative publicity for not using their wealth to assist. As a result of the growing number of companies recognizing the value in providing disaster assistance, FEMA has launched the National Business Emergency Operation Center (NBEOC), a way for the public and the private sectors to interact virtually when planning and implementing relief efforts.
Thought Leadership from our Consultants, Think Tanks, and Trade Associations
Eurasia Group Recognizes the GOP's "Commitment to America." House Republicans unveiled their "Commitment to America," a policy outline they say they will pursue should they win the majority in 2023, which remains an 85% probability. The Commitment does not provide a roadmap to what legislation they will pass next year, but does hint at themes: cutting spending, reducing dependence on China, increasing fossil fuel production, closing the southern border, providing increased data and privacy protections, hiring more police, and conducting oversight of the Biden administration. The Commitment echoes the "Contract with America," a detailed policy agenda that was embraced by Republicans before they took the House majority in 1994, ending their 40 years in the minority. Whether or not to roll out a policy agenda has been a dispute among Republicans for years, with some, such as Senate Minority Leader McConnell, believing that specific policy announcements provide opportunities for the opposition to attack. Others, like Senate Campaign Chair Scott (R-FL), disagree, saying that Republicans need to stand for something more than just not being Democrats. While a House Republican majority would be expected to move a number of bills, there is no clear indication of a Senate agenda. More than likely, the agenda will be defined by "must pass" legislation like a Farm Bill, the debt limit, and government funding.
Inside U.S. Trade Reports on Majority Leader Schumer's and Speaker Pelosi's Calls for Executive Action on Outbound Investment. Senate Majority Leader Schumer (D-NY) and House Speaker Pelosi (D-CA) are calling on President Biden to take executive action to create an outbound investment review mechanism they say would enhance U.S. security in the face of Chinese and Russian threats. Their call for executive action indicates that a legislative answer is not in the short-term offing, although lawmakers may continue to revise their own outbound investment review proposals. The lawmakers said executive action should include stakeholder engagement, congressional input, and oversight from committees of jurisdiction to provide certainty and clarity for all. The business community has opposed action, arguing that its scope is too broad, would result in enormous compliance costs, and would disadvantage U.S. companies against foreign competition. However, proponents argue that ceding U.S. manufacturing power and technological know-how to foreign adversaries damages the economy, U.S. competitiveness, American workers, industry, and national security.
National Journal Points Out that Hydrogen Remains in Regulatory Limbo Following Permitting Bill's Failure. A major legislative overhaul of infrastructure-permitting rules has been placed on hold after Sen. Manchin's (D-WV) failure to amass enough votes to include it in the stopgap-funding bill passed by the Senate. This is at least a temporarily blow to a wide range of sectors, including fossil-fuel-pipeline operators, offshore-wind-farm developers, and companies aiming to build thousands of miles of electricity transmission. It is also a significant setback for the hydrogen-energy sector, which is selling its product as a key plank in the U.S. strategy to curb greenhouse-gas emissions. The Manchin-permitting bill, initially included in the continuing resolution before Senate Majority Leader Schumer stripped it, contained language to give the Federal Energy Regulatory Commission (FERC) authority to approve construction of hydrogen pipelines the same way it does natural gas.
In Other Words
"Jackie, are you here? Where's Jackie," President Biden calling out late Rep. Jackie Walorski (R-IN) during a conference, attempting to acknowledge her from the stage, forgetting that she had passed away in August.
"The old crow's a piece of shit," former President Trump on Senate Minority Leader McConnell during a sit-down interview with journalist Maggie Haberman.
Did You Know?
U.S. trade with Russia is down 80% since February, these American import numbers are striking:
January: 8.3 million barrels of crude oil; 35,700 carats of diamonds; and 2,100 tons of Arctic crab.
June: 0 barrels of oil; 0 carats of diamonds; and 0 tons of Arctic crab.
Out and About in Washington 
The Senate has gone on break until after the mid-term elections. Senate Majority Leader Schumer announced that the next roll-call vote will occur in mid-November. The majority leader cautioned members that they should be prepared for an "extremely busy" agenda over the last two months of this Congress.
The U.S. Chamber of Commerce announced that Tomoko Hosaka Mullaney has been appointed head of the U.S.-Japan Business Council, a Chamber-backed organization that advocates for American business interests in Japan. She had been a vice president at the Asia Group following a career in journalism, including stints as deputy economics editor for the AP in Washington and Japan news editor for Dow Jones.
Graph of the Week
 The Conference Board's September Consumer Confidence Index found that American consumers expect inflation 12 months from now to stand at 6.8%. This is down from 7.0% in August and a peak of 7.9% in June. As a result, the Consumer Confidence Index rose in September—its second consecutive monthly increase, after declines through much of the summer; concerns about inflation dissipated largely due to declining gas prices. While the Index improved from its summer lows, recession risk remains high. Looking forward, improved confidence may bode well for consumer spending in the final months of 2022, but inflation and interest-rate hikes remain strong headwinds to growth in the short- to medium-term.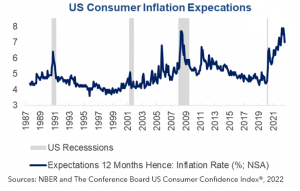 .