Thought of the Week:
I've never been to war, but that doesn't mean that parts of my life haven't been shaped by it. My mother's side of the family, the Italian side, immigrated to the U.S. as a matter of life and death at the outset of World War II. A first cousin, suffering from Post-Traumatic Stress Disorder (PTSD) related to his tours of duty in Vietnam, eventually took his own life. And my own connection to veterans stationed at Walter Reed National Military Medical Center led me to co-found a non-profit to support those American service men and women wounded or injured in support of the global war on terrorism. While the remainder of this blog concentrates on some of the economic and policy issues associated with Russia's invasion of Ukraine, we, as a company, should not lose focus that there is a very real human component to war that should not be forgotten. While these pictures taken in, and around, the Washington office provide some color to that component, a recent Conference Board council discussion I participated in examined how corporate citizenship during a geopolitical crisis can be very different from that during a natural disaster or emerging societal issue. There was no debate that war is different, and four insights that emerged from the discussion reflect the significant ways in which responding to a geopolitical crisis differs from responding to a natural disaster in a time of peace. First, it needs to be acknowledged that providing relief is more dangerous and difficult. Whereas help from neighboring communities and countries is typically welcomed when a hurricane or an earthquake hits, a war zone is more dangerous and chaotic, and many organizations may be barred from entry. Even NGOs with existing operations in the area will have difficulty getting resources from the outside, and aid workers and their families could become victims themselves. Therefore, any philanthropic strategy requires stakeholder education, especially for employees. Second, work should proceed through established international organizations. With regard to natural disasters, corporate citizenship teams often work with local non-profits with whom they have established relationships. In an international geopolitical crisis, this approach is far less feasible. Instead, attention should turn to humanitarian organizations with extensive experience working in conflict zones. In addition, the risk of running afoul of sanctions on institutions or individuals underscores the need to work with established organizations. Third, cash is king. The best way to help established organizations is through cash donations. In-kind donations can bog down relief efforts. Last, if a decision is made to get involved, companies should prepare for the long-term. In addressing natural disasters, research reveals that 73% of companies make immediate relief their top priority, while just 3% focus on long-term recovery. In geopolitical crises companies should be prepared to focus on long-term recovery because wars lead to extensive physical and social disruptions.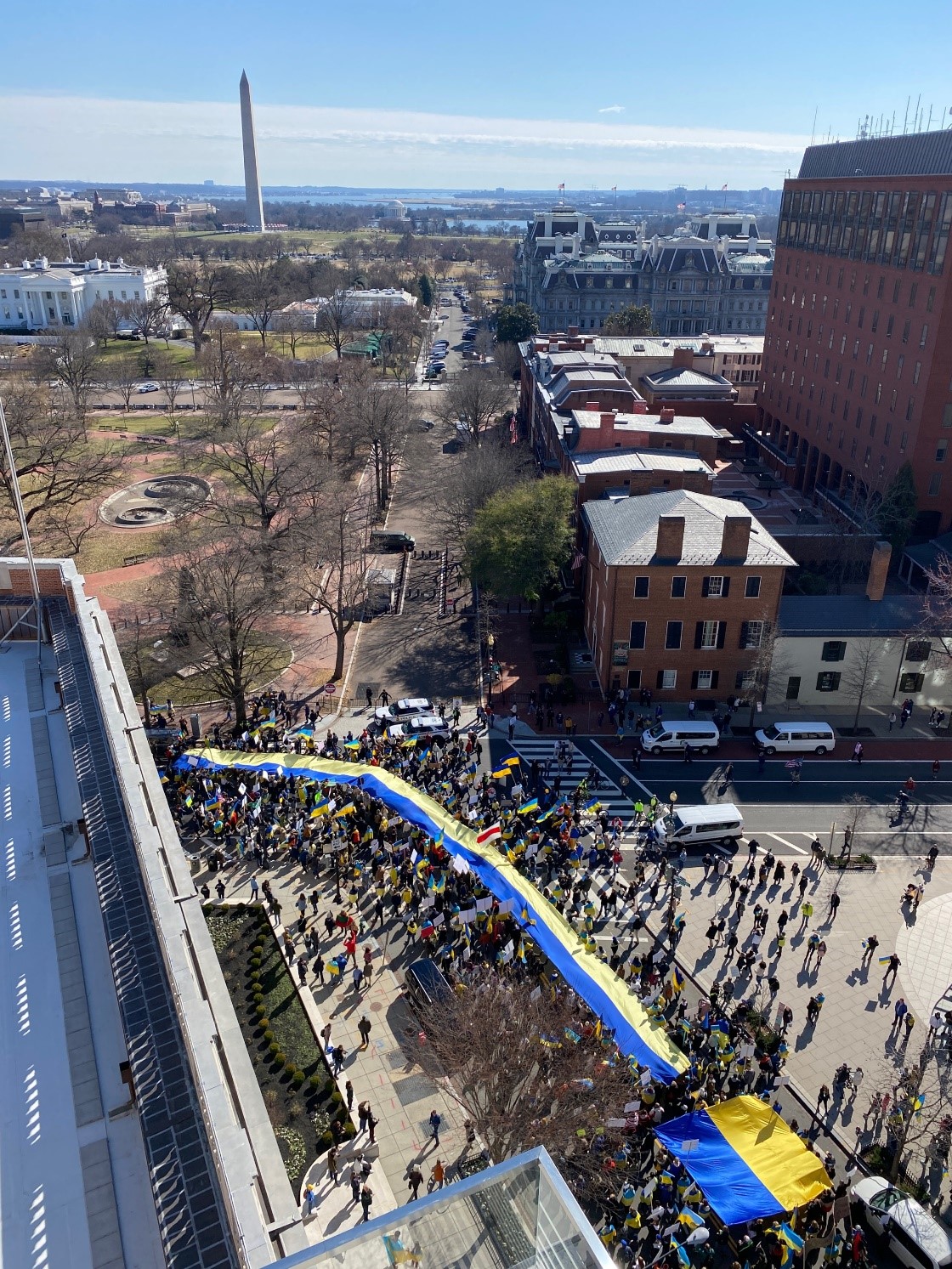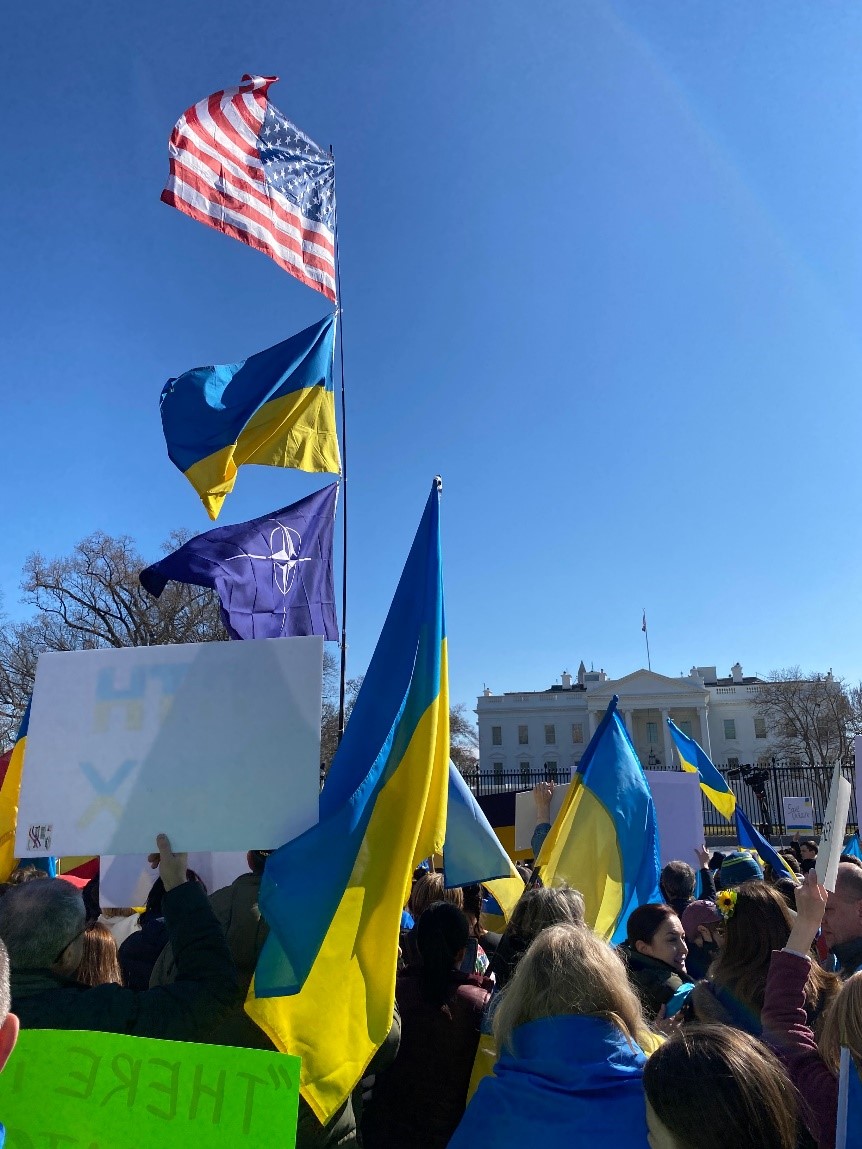 Thought Leadership—from our Associations, Think Tanks, and Consultants:
Center for New American Security (CNAS) CEO Richard Fontaine Assesses the Wide-Reaching Impacts of the Russian Invasion of Ukraine. Despite a strong rebuke from the United States, NATO, and much of the international community, Russia launched an invasion of Ukraine, sending troops across the border and rocket attacks into several cities. As the conflict intensifies, it has become clear that the invasion has upended Washington's foremost foreign policy plans. The Biden administration, with general bipartisan support, had sought to focus on China as its foremost long-term challenge and Asia as its priority theater. By ending Middle East wars, stabilizing relations with Russia, and strengthening alliances, the Biden administration believed that Washington would free itself to compete with Beijing in earnest. A violent, aggressive Russia, active in a Europe unable to respond absent American leadership, puts serious stress on the administration's approach. Indeed, responses to Russian aggression will have costs elsewhere—reinforcing NATO's east will draw military resources to Europe rather than the Indo-Pacific, sanctions on Russia will render Moscow more dependent on China, and diplomacy that would have focused on countering China  will now be focused on a Russia response. Although these steps are necessary in the face of Russian aggression, they will have effects elsewhere. Washington may stop pivoting—to Asia before, now to Europe, and possibly to Asia—and instead start global balancing. In their recent platform, Beijing and Moscow reveal a common desire to assume newly ascendant places in an American-dominated international order. Preserving that order will require dealing with both countries simultaneously, which will be impossible alone. Responding to Russia will require more than European action, and dealing with China will take more than Asian participation. Predictions of the postwar order's demise are exceedingly premature. Out of this tragedy may rise: NATO more unified and better resourced, the U.S. more implanted in Europe, Russia facing high and indefinite costs, and a lesson to would-be aggressors. Response will require a growing array of countries, across regions, to work in common on both Russia and China.
Eurasia Group: Russia/Ukraine Scenarios—Base Case Involves Russian Control of Eastern Ukraine. Three general scenarios for the conflict's evolution over the following months can be envisioned. While many factors will affect the conflict's trajectory—among them the strength and competence of the Ukrainian and Russian militaries, the degree of Western cohesion, and the impact of economic sanctions—the central driver will be Russian President Putin's attitude and risk tolerance. Currently, Putin is frustrated with the level of Russian progress in achieving Moscow's objectives, which remain regime change through the seizure of Kyiv and political control over the whole of Ukraine. The military's performance over the first week of the conflict has called into question whether this can realistically be accomplished rapidly. Scenario 1: Putin the aggressor (55% odds). Russia exercises patchy control of eastern Ukraine, and a Russian-backed puppet government is established. Around Ukraine, NATO provides significant military assistance to a western Ukrainian state and material support to an insurgency in eastern Ukraine. A risk of airborne clashes between Russian and NATO aircraft exists, and Russian nuclear threats continue but do not escalate to serious risk of use. Scenario 2: Putin the realist (30% odds). In Ukraine, economic and/or military costs force Russia to reach a negotiated settlement with Ukrainian President Zelensky or withdraw unilaterally. Russia removes military forces from Ukraine, except Crimea. The territorial status of Donbas is not settled, but control returns to pre-invasion lines and new rounds of negotiations begin. Zelensky remains president. Around Ukraine, refugees return home and risks of NATO-Russia confrontation fall. Scenario 3: Putin the reckless (15% odds). In Ukraine, Russia launches a ruthless attack on and an occupation of eastern Ukraine and part of western Ukraine, making full use of air power and weaponry. Kyiv is occupied and a puppet government is installed. Over 10 million people flee to Western Europe as refugees. Around Ukraine,  NATO countries provide major support to a resistance movement, including training bases in Poland or Romania. NATO and Russian air forces engage in direct combat, potentially as part of NATO imposing a no-fly zone. Both NATO and Russia put a ceiling on escalation, and Russian nuclear threats are frequent but do not escalate to serious risk of use. 
Eurasia Group: Sanctions Escalation is Likely as the U.S. Tests Bounds of Public Opinion and Economic Costs. The U.S. is expected to escalate its sanctions against Russia in response to the invasion of Ukraine. The degree of escalation will depend on the severity of Russian military aggression and could include targeted asset seizures, additional banking measures, energy sanctions, and other measures to cut Russia off from the global economy. The most important limiting factor on steps taken will be economic blowback that could dampen public support for the measures. The Biden administration will consider actions to mitigate this pain but will struggle in the absence of new congressional legislation. In many cases, corporations have already begun to lead the way in suspending sales and abandoning assets, taking "virtuous impairments" in response to the fear of new sanctions or public pressure. Such actions are likely to encourage the White House and Congress to go further than they would otherwise. 
President Biden is "Damned-if-he-Does, Damned-if-he-Doesn't," Says Politico. Conservatives are slamming the Biden administration for exempting Russian oil from sanctions aimed at the Kremlin, arguing: (1) with Russia's economy so reliant on energy, the U.S. should target energy exports to be effective; and (2) the president should simultaneously green-light domestic energy production to offset any shortages—a policy the GOP has pushed for years, but one that is antithetical to the Biden administration's climate goals. Now, however, calls to ban Russian oil are gaining bipartisan traction on Capitol Hill. The issue is creating a dammed-if-he-does, damned-if-he-doesn't scenario for President Biden. If the White House blocks Russian oil, skyrocketing gas prices will go even higher. Even though Russian oil and gas make up just a fraction of the U.S. energy supply, choking off its energy products will send prices soaring. That is the last thing President Biden needs, as inflation is already dragging down his poll numbers. If the president does not block Russian oil and gas, he opens himself to allegations that he's giving Russia precious breathing room. Pressure on the White House is coming from the far right, center, and the left. While the Republican Study Committee has circulated a memo to House Republicans blasting what they call President Biden's "assault on domestic energy producers," middle-of-the-road Sens. Murkowski (R-AK) and Manchin (D-WV), who both hail from energy-producing states, are preparing to unveil a bill to ban Russian oil imports. A draft of their proposal states that such imports put U.S. "national security at risk and [support] Putin's ability to stay in power." On the left, Sen. Markey (D-MA), a leading progressive on climate change, has drafted a bill banning Russian oil. Even if the administration bans Russian imports, it remains unclear whether the president would open up new federal land for drilling; that is a separate issue and one that would infuriate his own party. However, if he bans Russian oil, and gas prices spike further, pressure to act will increase. The issue is making Republican political operatives salivate. Either they get to paint Biden as unwilling to go all out to punish Putin, or he takes the bait and gas prices jump before the midterms.  
In Other Words (Quote):
"The near-term effects on the U.S. economy of the invasion of Ukraine, the ongoing war, the sanctions, and the events to come, remain highly uncertain. Making appropriate monetary policy in this environment requires a recognition that the economy evolves in unexpected ways. We will need to be nimble in responding to incoming data and the evolving outlook."
–Fed Chairman Powell in Congressional testimony.
"It's like keying your own car and slashing your own tires,"
–Rep. Gottheimer (D-NJ) on news that progressive "squad" member Rep. Tlaib (D-MI) will give a critical response to President Biden's State of the Union address.
Did You Know:
President George W. Bush's 2002 State of the Union address had the highest number of TV viewers ever at 62.06 million.
Image of the Week:
Russia/Ukraine Conflict Poses New Challenges for the Global Economy. Russia's invasion of Ukraine poses new risks for the global economy as it recovers from Covid-19. Although the U.S. and European sanctions are, so far, are unlikely to derail recovery, soaring energy prices have added to inflationary pressures. While tighter sanctions and/or other controls could negatively impact global supply chains, Europe stands to be hardest hit as Russia is their main supplier of energy. In fact, the crisis has already prompted economists to revise down growth projections for this year.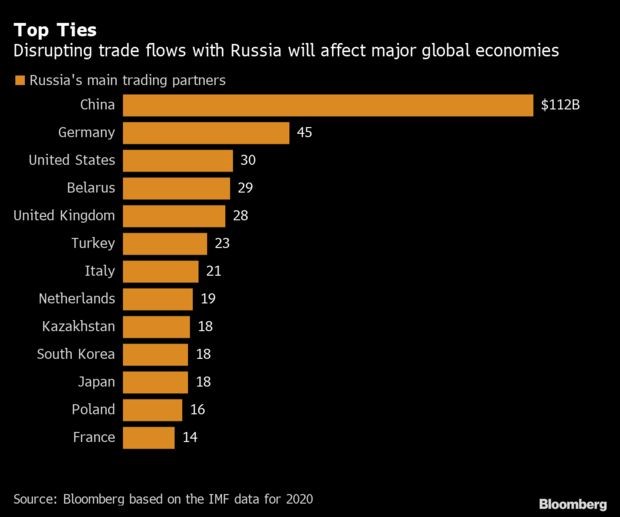 Russia's Lobbying in D.C. Russian businesses have paid lobbyists millions of dollars to influence American lawmakers. Now, after the invasion of Ukraine, those relationships are fraying, as firms drop sanctioned or controversial clients. The moves have further isolated some of the country's largest banks and energy companies. Russian firms with links to President Putin will continue to lose access to U.S. policymakers, even if they have not been formally sanctioned.