Thought of the Week:
Super Bowl LVI between the Los Angeles Rams and Cincinnati Bengals wasn't decided until there were less than two minutes left in the contest, with Rams wide receiver Cooper Kupp winning the game's most valuable player (MVP) award. While it's hard to argue that he didn't deserve it, cases for the award could have also been made for Rams defensive tackle Aaron Donald or even quarterback Matthew Stafford. Regardless of the winner, the voting process used by the NFL was more than odd in that ballots were cast before the game was even over. In fact, fan voting, which counts for 20% of the total vote, began early in the fourth quarter, and media voting, which was responsible for the remaining 80%, was concluded before the two-minute warning. Often, the final minutes of a game are the most crucial, and it only seems right that they should be considered in the MVP vote. Just as the Super Bowl's MVP voting process could use an overhaul, I've come to believe that our mid-term elections need reform as well—the time has come for Congressional term limits. I used to be stridently against them, and I agreed with the arguments that limiting the number of terms a Senator or Representative could serve would take power away from voters; decrease institutional knowledge and congressional capacity; limit the incentive to gain policy expertise; kick out the most effective lawmakers; and do little to minimize corruptive behavior or slow the revolving door between Congress and the private sector. What changed my mind to tip the scale in favor of limits was a realization that in today's world of extreme partisan gridlock, the maintenance of an issue appears to be more important than solving the problem. While there are many areas where issues seem to trump solutions, immigration can be used as one example. Despite what one hears on talk radio, cable TV, or a favorite podcast, polls consistently show that Americans tend to be relatively unified on the issue of immigration—high percentages favor both strict enforcement of immigration laws as well as a pathway to citizenship for most who entered the U.S. illegally in the past. Of course reaching a consensus and ironing out details would be a challenge, but a broad enough coalition exists to construct lasting policy. Unfortunately, the necessary compromises required to reach agreement could be lethal in primary elections and the short-term calculations of electoral politics often make the continuation of an issue take precedence over finding a solution—solving a problem takes the issue off the table to campaign on and raise money. The prevailing thought being that a candidate can run forever on an issue but can only run once following a solution. Just as updating the NFL's Super Bowl MVP voting procedures might lead to a more deserving player receiving the award, revamping Congressional election rules might lead to legislators who work to solve problems.  
Thought Leadership—from our Associations, Think Tanks, and Consultants:
Brookings Says President Trump's Hold on the Republican Party May be Getting Weaker. For the past year, it has been assumed that Donald Trump is the undisputed leader of the Republican Party—he has held onto the loyalties of many Republican voters, he has managed to spread the 'Big Lie' (that he won the 2020 presidential election) to many followers and GOP politicians, and he has raised enormous sums of money, mostly from small donors. However, recent weeks have exposed three noticeable cracks in what the former president would like to believe is his monolithic control over the Republican Party: (1) the hard-core Trump base appears to be shrinking; (2) across an array of Republican primaries, Mr. Trump does not appear able to crown a winner simply with his endorsement; and (3) a number of Republican heavy hitters have stepped up to challenge Mr. Trump's version of the 2020 election.
The Eurasia Group Argues that Pocketbook Issues Still Hold Weakness for Democrats. Despite headline turmoil in U.S. politics, midterm election dynamics remain stable, with Republicans favored to win majorities in both the House (90% odds) and Senate (65% odds). Although redistricting has faded as a tailwind for Republicans, quality of life issues that favor the party are likely to dominate the midterm election. Most polls show that the economy remains the preeminent issue, inflation has risen dramatically in voters' minds, crime has become a key concern, and Covid no longer holds as much significance as it once did. Even though former President Trump will continue to drive a wedge within the GOP by focusing on Big Tech, critical race theory, and voter fraud, most Republican candidates want to run on the issues voters care most about, which just happen to be many of the same issues with which President Biden struggles. One bright spot for Democrats is that the tension President Trump and his allies will create in GOP primaries could potentially cost Republicans winnable seats. 
Politico: Interviews With Republican Operatives Provide Glimpse Into What the GOP is Thinking. Public statements by Republican strategists heading into campaign season reveal much of what they are thinking. First, Democrats are not addressing voters' top concerns, including inflation, crime, and the mental health of school-aged children. Second, swing voters are not buying what the Democrats are selling, including voting rights, the $1.9 trillion Build Back Better social spending bill, and increased heat on January 6 investigations. Third, running against former President Trump will no longer work. While some Democratic strategists argue that talking Trump will motivate base voters, Republicans believe people miss the former president's policies and have moved on from his personal shortcomings. Fourth, the politics of the pandemic have changed. Fifth, although Democrats suggest that President Biden's poll numbers will improve if inflation eases and pandemic restrictions recede, Republicans counter that their analysis shows that no president has "substantially improved" his approval numbers between the beginning of a midterm year and the midterm election. Last, Republican enthusiasm is real, and strategists say it can be seen in fundraising numbers and the sheer number of GOP candidates running this cycle vs. the large number of Democrats deciding to retire—29, the most since 1996.
In Other Words (Quote):
"Honestly, it is a sh** show. It's scandalizing, every single day. What is surprising to me is how it never stops being scandalizing,"
-Rep. Alexandria Ocasio-Cortez (D-NY-14) on the work culture of Congress. 
Did You Know:
The House Ways and Means Committee is the oldest standing committee in Congress. Originally created during the 1st Congress in 1789, it became a standing committee during the 4th Congress (1795-1797).
Image of the Week:
The U.S.-Canada trade relationship is the largest in world history:   
Top Six U.S. Goods + Services Trade Partners in 2021*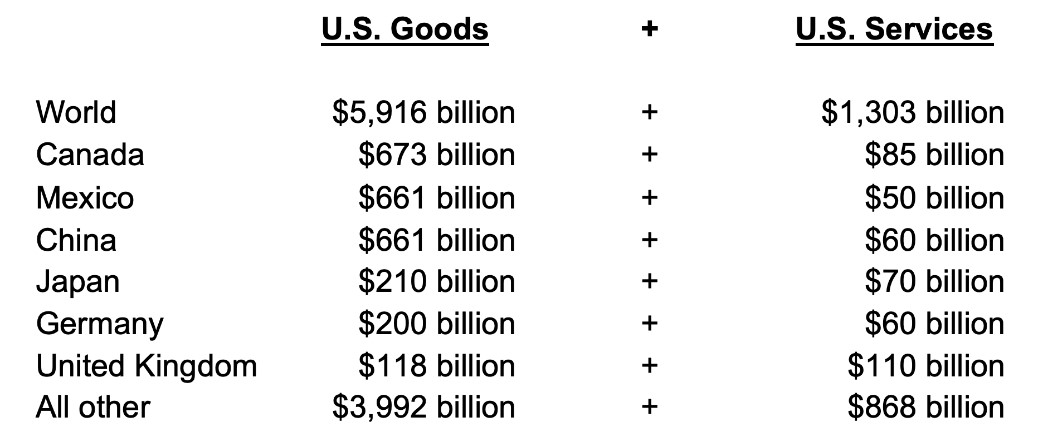 *Source: Progressive Policy Institute 
*Estimates for services based on nine months available data; goods trade are full-year figures.