Thought of the Week:
Years and years ago, my wife and I were debating about where to take a summer vacation. I advocated for a "staycation," saying we could save money by avoiding travel and hotel fees, see the sights locals rarely visit like Mount Vernon and the Library of Congress, and take the kids to the community pool. My wife argued for week-long beach vacation. In the end, we compromised—and went to the beach. While I'll be headed out of town for vacation tomorrow (the blog will not be published next week), the memory motivated me to do some research on vacations. Did you know where people choose to go on vacation may indicate how much they like to be around others? University of Virginia psychologists quizzed college students about their geographical preferences and found that introverts prefer the mountains while extroverts prefer the ocean. While that finding seems fairly intuitive—in the mountains one can find seclusion and isolation, while beaches tend to be crowded places full of seminude strangers, a potentially unappealing scene for introverts but exactly the point for extroverts—additional research shows that people derive most of the happiness from their vacations during the planning phase. On its own, this would seem to recommend creating complex itineraries, rather than spontaneous getaways. But if hyper-planned trips bring joy in planning, they risk yielding the opposite in taking. Research from Harvard University shows that people derive little happiness from vacations they perceive as stressful. Jam-packed itineraries may look good on paper, but could end up meaning one returns no happier than when they left. On the other hand, people with simple, relaxed trips seem to experience a happiness boost upon their return. The dilemma presents a sort of vacation paradox—a choice of being happy beforehand or happy afterward. Also, whether people vacation at all may say something about career success, but not what one might expect. According to a study by the U.S. Travel Association, American workers typically forfeit millions of days of paid time off, worth billions of dollars each year, with the career benefit being negative. In fact, those who left between 11 and 15 days on the table were 6.5% less likely to receive a raise or bonus than those who used all their vacation days. So, what does my vacation say about me? Well, I'm taking a highly-planned, not by me, golf vacation that will have sweeping views of the sea. My goal upon my return will have been to relearn one of the lessons taught in my favorite golf book, Golf in the Kingdom. The lesson being that golf, like life, is all about what happens in between the shots ["If ye can enjoy the walkin' ye can probably enjoy the other times in yer life when ye're in between. And that's most o' the time; wouldn't ye say?"]. I'll also hope to have time to kiss the Blarney Stone, which is said to give the gift of eloquence and persuasiveness…skills of extreme value for a lobbyist.  
Thought Leadership—from our Associations, Think Tanks, and Consultants:
Republican Candidate Weakness Increases Uncertainty of Senate Forecast, Says the Eurasia Group. Although Republicans are in a very strong position to win control of the House of Representatives (90% probability), the weakness of Republican candidates in Pennsylvania and Georgia, as well as a slight improvement in generic ballot averages for Democrats, is increasing the uncertainty of the Senate outlook—the odds of a Republican takeover have fallen from 65% to 60%. While wins in Nevada and New Hampshire would still likely be enough for Republicans to capture the majority, they may end up leaving winnable seats in Arizona and Colorado on the table, even in a wave election year for the GOP. If Republicans do end up taking the Senate, they will be able to dictate whom President Biden can appoint to executive branch positions, forcing him to choose more pro-business moderates for any vacancies that arise and greatly complicating his ability to appoint judges over the last two years of his current term. Moreover, if Republicans do take a Senate majority, they have a favorable map in 2024 that could see them come close to a super majority of 60 seats.
Global Policy Group: The White House has Moved from FTAs to Frameworks. The Biden administration has adopted a new approach to trade policy and negotiations, using regional or bilateral frameworks (or partnerships) to expand cooperation with trading partners rather than seeking to negotiate traditional free trade agreements, or FTAs. The new approach reflects the Biden administration's wariness of traditional FTAs, whose focus on market access and tariff cuts is seen by many in the administration as offering few benefits to American workers. The approach also reflects the administration's desire to expand economic ties with countries that may be unwilling to enter into formal free-trade negotiations but are willing to engage in more loosely defined framework talks. Expanded cooperation with these countries (not just through these economic frameworks but also through security groupings) is seen as essential to efforts to contain and compete with China. However, the new focus on frameworks rather than formal trade talks could increase tensions with Congress, since these informal partnerships are not be subject to the Congressional consultation and review procedures associated with traditional trade negotiations.
Politico: Supreme Court has a New Standard for Judicial Review. The Supreme Court has solidified a new standard for judicial review of regulation known as the "major questions" doctrine. The doctrine holds that if a rule is of major consequence, then Congress must have clearly authorized it beforehand. In other words, executive-branch agencies cannot rely on the general authority they have received from Congress in order to justify particularly sweeping actions The Court used the doctrine to rule that the Environmental Protection Agency (EPA) cannot require any sort of broad generation shifting when regulating power plants' carbon emissions. In addition to striking down the EPA regulations, the Court also relied on the doctrine in its decisions concerning the Occupational Safety Health Administration (OSHA) vaccine mandate and the Center for Disease Control and Prevention (CDC)'s eviction moratorium. The "major questions" doctrine stands in stark contrast to a previously relied upon canon, the "Chevron deference"—the principle that, if a particular law is not clear on its face, then courts should generally defer to the interpretation of the agency tasked with implementing that law. While the decision is an immediate blow for President Biden's climate agenda, opponents of federal regulation are already talking about making the same legal case against other regulations on topics from finance to telecommunications.
In Other Words (Quote): 
"I haven't made a decision about that yet," Rep. Liz Cheney (R-WY) on running for president in 2024. 
Did You Know:
Although not technically an obelisk, because it isn't made from a single piece of stone, the Washington Monument remains the tallest stone structure in the world at 555 ft. At the time of its dedication in 1884, the Monument was the tallest building in the world.
GRAPH of the Week:
Generic Improvement for Democrats. One factor lowering the odds of a GOP takeover of the Senate can be seen in the fluid polling dynamics following the Supreme Court's decision overturning Roe v Wade. The generic Congressional ballot question has ticked up slightly for Democrats since the decision was handed down. However, many analysts believe that most people activated by the abortion issue on both sides are already consistent voters, muting the advantage either side might gain from the decision.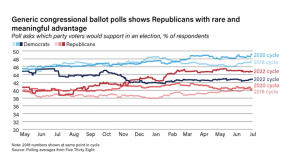 Trump-o-meter. President Trump's relative standing within the GOP has shifted down the Trump-o-meter. Polling shows that other contenders like Ron DeSantis of Florida are more competitive than a year ago, and recent revelations from the January 6 committee have given more Republicans a reason to look for an alternative. Although Trump's endorsement record has been mixed at best, he would still be the early favorite if he were to announce his candidacy for the 2024 presidency. However, a pre-midterm election announcement would likely hurt Republicans on the margins, as it would allow Democrats to reframe the election debate away from the policies of their unpopular president.