Thought of the Week:
Have you ever visited Washington in August? It can be miserable. Today's high is expected to be 97 degrees (the reading in my car was 103), with 60%+ humidity. Even pre-Covid, downtown D.C. felt like a ghost town during the month of August; the only pluses being you could finally snag a reservation at the city's hottest restaurant or grab a decent tee time on the weekend. Beyond the political metaphor, there is literal truth in the nation's capital being called a "swamp." But the heat and humidity can't be the only reason 535 members of Congress, thousands of staffers, and an army of interns decamp Washington each year for the annual August recess, can it? Well…In the country's early years, Congress typically convened in December and adjourned in the spring, before the summer heat could overwhelm them and their staff. When the Senate moved to its current chamber in 1859, members were initially optimistic about a "modern" ventilation system until it proved entirely ineffective. At the time, diplomats actually received "hardship" pay for enduring Washington's oppressive heat, and even President Lincoln would travel three miles north to the current site of the Armed Forces Retirement Home because the venue offered hilltop breezes not found downtown. In the 1920s, Carrier Corporation brought "manufactured weather" to the Capitol, but members found that even modern climate control could not cope with the city's hottest days. It wasn't until the mid-20th century that modern air conditioning brought needed relief. In 1970, facing the reality of another year-long session thanks to air conditioning, Congress mandated a summer break as part of the Legislative Reorganization Act. The Act requires Congress to adjourn sine die no later than July 31 of each year unless there is a declared war, or unless Congress otherwise requires. In odd-numbered years, Congress must take an August recess if it fails to adjourn by July 31. Although forgoing an August recess isn't without precedent, the 1970 Act, in fact, recognized a summer recess tradition that dates back to 1791. This year's August recess has already begun, but staffers tell me the threat of a special session to consider the Inflation Reduction Act (formerly the Build Back Better reconciliation bill) hangs over the city like a wet blanket.
Thought Leadership—from our Associations, Think Tanks, and Consultants:
Bloomberg Government Reports that Federal Lobbying is on Track to Set a New Record in 2022. According to a new OpenSecrets analysis of lobbying disclosures covering the first half of 2022, federal lobbying is on track for record spending in 2022. Lobbyists reported receiving over $2 billion during the first two quarters of the year for the first time ever. The trend follows an unprecedented $1.1 billion in lobbying spending during the first quarter of the year. The number of federal lobbyists active during the first six months of the year was 11,441, its highest figure since 2012. During the same period in 2021, 11,249 lobbyists received $1.8 billion. The federal budget remains the most lobbied issue with 3,549 clients deploying lobbyists to sway lawmakers on spending during the second quarter of the year. The House passed six appropriations bills last week, and the Senate released markups of 12 government-funding bills. Lobbyists primarily focused their efforts on health, tax, defense and transportation issues. The U.S. Chamber of Commerce, National Association of Realtors, Pharmaceutical Research & Manufacturers of America (PhRMA), and Blue Cross/Blue Shield remained the top four spenders during the second quarter of 2022. Meta, Amazon and the Business Roundtable also remained in the top 10 clients.
Eurasia Group Sees a Deep and Wide Signal Sent on Abortion Politics from Kansas Vote. Turnout in Kansas surged past previous midterm primary levels as voters rejected by a huge margin a constitutional amendment that would have allowed lawmakers to ban abortion in the state; in fact, even voters in conservative Trump-backed counties rejected the amendment. While a number of analysts anticipated that there would be a backlash against states that move to ban abortion in the wake of Dobbs v. Jackson, the large turnout in Kansas should be interpreted as a sign that voters are motivated to vote on the abortion issue. Although abortion is unlikely to be an issue in enough House races to swing the outlook away from Republicans, it could matter in a small number of races that will ultimately determine the Senate majority. Republicans are expected to adjust their strategy accordingly.
Impact of Taiwan on Midterm Elections Likely Minimal; Foreign Policy More Relevant to 2024, Says Eurasia Group. Excluding a major crisis, there will likely be little impact on the midterm election from Speaker Pelosi's visit to Taiwan. Jobs, the economy, inflation, crime, and immigration are the critical concerns for voters rather than foreign policy, which remains a second or third-tier electoral issue. However, pre-existing dynamics have already made Taiwan relevant for the 2024 elections, particularly in the Republican primaries. Candidates such as former Secretary of State Pompeo and Senator Cotton (R-AR) are expected to set a tone around anti-China and pro-Taiwanese rhetoric and policy. Even President Biden, despite going out of his way to say there has been no change in policy towards Taiwan, has slipped up a few times to suggest that the U.S. has committed to defend Taiwan in case of invasion. What is less clear is the public's opinion of Taiwan. While recent polling suggests increased support and interest in defending Taiwan in case of a Chinese invasion, the U.S. is in an isolationist era of foreign policy, considering the withdrawal from Afghanistan and the unpopularity of the Iraq War. In addition, polls related to the Russia-Ukraine conflict show that Americans did not want to send American troops to fight Russia in Ukraine. Analysts remain suspicious of the political legitimacy of sending U.S. troops to Taiwan to fight against a much larger, better-funded China. 
In Other Words (Quote): 
"I'm not getting involved in that," Sen. Manchin (D-WV) on whether he would support President Biden for reelection.
"America made a bedrock promise to always stand with Taiwan, and this visit is a reminder of that," House Speaker Pelosi (D-CA) during an official visit to the presidential office in Taipei.
Did You Know:
President Tyler, the 10th president (1841-1845), who was born during the Washington administration in 1790, has a living grandchild, Harrison Ruffin Tyler.  
GRAPH of the Week:
Last week, as a guest of Ballast Research and the National Journal, I was fortunate enough to attend the Congressional Baseball Game at Nationals Park. While Republicans won the annual contest 10-0, one of the burning questions of the night was whether a hotdog is a sandwich. The results are in and 57.6% of respondents agreed that a hotdog is NOT a sandwich. My own take was that a sandwich requires two, or more, pieces of bread, and that a hotdog fell in the "wrap" category.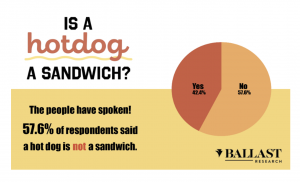 .