Thought of the Week:
From the day our children were born, my wife and I began saving for their college education. We took advantage of a pre-paid tuition plan the state of Maryland offered, making monthly payments until their 18th birthdays. It was a huge risk as it applied strictly to in-state public universities; otherwise, it was essentially a passbook savings account that couldn't be touched for 18 years. Worrying that they might not even want to attend college or may want to go out of state, we undertook a somewhat devious plan to brainwash them into becoming Maryland Terrapin, Towson Tiger, and Salisbury Seagull fans. So, it was with great interest when I heard Speaker of the House Pelosi say in July 2021: "People think that the President of the United States has the power for debt forgiveness. He does not. He can postpone, he can delay, but he does not have that power. That has to be an act of Congress." Then, just yesterday, she said: "President Biden's bold action is a strong step in Democrats' fight to expand access to higher education and empower every American to reach fulfillment…it will help more working families meet their everyday needs…as they continue to recover from the challenges of the pandemic." In essence a slap in the face to people like us who saved to make 216 payments for each child to attend college. What changed? The political calculus; simply put, this is an election year and 2021 was not. With races tightening, Democrats need young, college-educated voters to turn out in November, and this is a political maneuver to do just that. By canceling $10,000 in student loan debt for those earning less than $125,000/year and forgiving up to $20,000 in student loans for Pell Grant recipients, the White House's plan is certainly "inclusive"—even if one has never attended college, that person now has the opportunity to pay for his fellow Americans' degrees. While there's no denying that the action is fiscally irresponsible, inflationary, and unfair to those who did not attend college or worked/saved/served to pay for it, is it even legal is the question I've heard most? Maybe. No one knows. It's never been done before. The Department of Education is relying on a 2003 law, the HEROES Act, which gives the administration authority to waive or modify student loans to alleviate hardships brought on by national emergencies. This is the same law that was used to address financial harms caused by the COVID-19 pandemic, and advocates for loan cancellation say the lack of explicit constraints in the legislation is deliberate, giving the executive branch ultimate flexibility to manage its relationship with borrowers. Yet, there exist a host of constitutional provisions, federal laws, and legal precedents that obligate federal agencies to collect outstanding debts. One of the problems opponents of debt forgiveness will face is establishing "standing;" being eligible to file suit. To do so, one has to demonstrate that they would be personally harmed by the action. Merely being a taxpayer who implicitly owes a percentage of the national debt doesn't count; neither does the general risk that loan forgiveness would worsen inflation. With benefits specific, and risks/harms generalized, few people or organizations can plausibly claim standing. However, this past June's Supreme Court decision in West Virginia v. EPA placed new limits on the ability of federal agencies to interpret their authority in matters of "vast economic and political significance." So, this has been a long way to go to say that the ultimate fate of the president's loan forgiveness plan remains unknown.  
Thought Leadership—from our Associations, Think Tanks, and Consultants:
Bloomberg Government Says Democrats Have New Found Optimism. Congressional Democrats are increasingly optimistic they can limit Republican gains in the House and even keep control of the Senate. The House is nearly certain to flip to Republican control after the November midterm elections—Democrats have only a nine-seat advantage, and analysts forecast a net gain of as many as two dozen seats or more for the GOP, assisted by partisan redistricting in Republican-controlled states. However, despite President Biden's dismal approval ratings, the Senate, currently divided 50-50, is increasingly looking like a toss-up. Inexperienced GOP candidates underperforming in the polls, the debate over abortion, and the mellowing of inflation have enhanced Democrats' prospects. In fact, even Senate Minority Leader McConnell (R-KY) has lowered his expectations in recent weeks. "I think there's probably a greater likelihood the House flips than the Senate," he recently told reporters. The one result of the November election that is likely already baked in is legislative gridlock and an end to President Biden's hopes of advancing his agenda any further through Congress over the final ears of his term. If congressional control splits between the parties, the House and Senate are unlikely to agree on any major new initiatives, and even if Republicans take control of both chambers, they will not have large enough majorities to overcome White House vetoes.  
Eurasia Group Believes the IRA Sets the High-Water Mark for Climate Policy Under Biden. The recently enacted Inflation Reduction Act (IRA) is both a surprise win for Democrats and one of the most substantial pieces of climate policy ever enacted in the U.S. Best-case outlooks show it triggering a 40% reduction in emissions by 2030, which puts the U.S. on the way to its Paris commitment of a 52% emissions reduction by the end of the decade. However, because of the partisan nature of the bill—it passed without a single Republican vote in the House or Senate—the U.S. is unlikely to repeat any similar efforts for years due to likely Republican control of at least one chamber of Congress next year. The partisan nature of the IRA's passage also means that a follow-up deal on permitting reform, which would speed approval of both fossil fuel and renewable energy projects, faces substantial hurdles and is unlikely to move unless it can be rolled into a widely supported package. Among the winners from the legislation, batteries stand out above others. The law includes new advanced manufacturing credits, credits for critical mineral manufacturing, R&D funding, and loan guarantees aimed at bolstering battery production in the U.S. and allied nations. Hydrogen seems to be another winner, with new production tax credits coming on top of recently created "hydrogen hubs" designed to spur investment in new production. Also, a nuclear generation tax credit providing up to $30 billion over ten years to keep plants from being forced into retirement is the first major sign of support for the industry in some time. However, price and domestic content requirements added to the EV tax credit mean that up to 70% of current EV sales may not qualify for credits under the new rules.
The Global Business Alliance (GBA) Releases its 2022 Foreign Direct Investment in the United States (FDIUS) Report.  The report examines the $5 trillion that international companies invested cumulatively in the U.S. by the end of 2021. The report finds that the U.S. continues to be the world's top destination for international companies to invest due to the welcoming business climate, skilled workforce, and unmatched consumer base. While much of the political and policy focus related to cross-border investment involves adversarial nations, this report underscores that the vast majority of investment comes from nations that are long-time allies of the U.S. Among the key findings from the 2022 report:
Cumulative FDIUS reached $5 trillion by the end of 2021, a 40% increase since 2016;
Four allied countries have contributed half of FDIUS: Japan, Germany, Canada, and the U.K.;
Manufacturing accounted for over 40% of FDIUS;
Retail trade is the fastest-growing industry for FDIUS; and
Semiconductor manufacturing saw 194% growth, nearly tripling in the last five years.
National Association of Manufacturers (NAM) Sees the Fed Continuing With Interest Rate Hikes. The Federal Reserve intends to keep increasing interest rates over the coming months, but the details remain uncertain. Background: the Fed has raised interest rates this year at a pace that hasn't been seen in four decades, putting the central bank in somewhat uncharted territory and fueling concerns about next steps. Minutes from the most recent policy meeting suggest that officials are concerned about a variety of risks as they consider how and when to reduce rate increases. Higher rates, higher costs: the primary concern is that rates might need to be raised more than currently anticipated if price pressures have spread broadly through the economy. In addition, officials acknowledge they might also raise borrowing costs more than needed—causing unwarranted economic weakness—because of the delay between when borrowing costs go up and when those costs are reflected in economic activity. Bottom Line: pricing pressures are expected to moderate over the coming months. The current forecast is for year-over-year growth in the CPI to be 6.5% at year's end, with core inflation at 5.0%. At its Sept. 20–21 meeting, the Fed is likely to increase the federal funds rate by 50 basis points instead of the 75-basis-point hike some have called for since late summer. We will see 25 basis-point federal funds rate hikes at each of the final two FOMC meetings this year; these increases would bring the federal funds rate into the 3.25% to 3.50% range by year's end.
In Other Words (Quote): 
"They continue to try to fool you that they are helping you out. But they're not. Because a lot of money it's going to trees. Don't we have enough trees around here?" – Georgia Senate candidate and former NFL running back Herschel Walker (R) discussing the Inflation Reduction Act (IRA).
"Waiving debt for those already on a trajectory for financial security sends the wrong message to the millions of Ohioans working just as hard to make ends meet," – Rep. Tim Ryan (D-OH).
Did You Know:
There have been 116 Supreme Court Justices; forty-one of these Justices never served as a judge prior to their appointment.
GRAPH of the Week:
Will the IRA Have a Trivial Impact on Climate…According to Danish climate expert Bjorn Lomborg, the founder of the Copenhagen Consensus Center, a sound-science think tank, Democrats' recently passed Inflation Reduction Act (IRA) will have a negligible long-term effect on global temperature increases.  Plugging the IRA's measurements into UN warming models reveals that the U.S. climate bill would do almost nothing to reduce global temperature. In fact, Lomborg said, "the impact of the new climate legislation will be unnoticeable, 0.0009°F to 0.028°F by 2100."…Or Prevent Climate Related Damages. According to White House analysis, the IRA "could cut related damages by as much as $1.9 trillion through 2050 by reducing impacts from extreme weather events, sea level rise, and more." OMB's modeling shows the bill has the potential to cut U.S. emissions by up to one billion metric tons of carbon dioxide annually by 2030; by cutting emissions up to 40% below 2005 levels by 2030, the new law could reduce the likelihood of the most damaging climate change outcomes.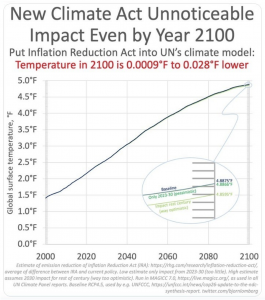 .