Thought of the Week:
Due to a very fortuitous bounce of a golf ball, my wife and I won a free trip to Las Vegas a number of years ago. Given that the costs of the trip were largely covered, we decided to indulge in a number of the more kitschy things that Sin City has to offer. Although we did not renew our vows at a Vegas wedding chapel, we did visit old Vegas on Fremont Street, ate at a Gordon Ramsey restaurant, played Blackjack at the Flamingo, took in a performance by an Elvis impersonator, and of course went to a David Copperfield magic show. As luck would have it, we got there early and had great seats. Before the show opened, I was approached by an assistant and asked if I'd be willing to be called up on stage. Of course I jumped at the chance and was the audience member chosen to take part in Copperfield's famous "Dancing Tie" trick. While it was an amazing demonstration of sleight of hand to witness up close and personal, Congress undertakes its own sleight of hand when it names, or misnames, the bills passing through its legislative sausage making process. Case in point is the Inflation Reduction Act or IRA, which President Biden signed into law on Tuesday. Not only did the nonpartisan Congressional Budget Office, which scored the bill, determine that it would have a "negligible effect" on inflation this year and next, Senator Manchin (D-WV), the linchpin behind the bill's passage, admitted publicly this week that the IRA would not tame inflation for Americans any time soon. What's more, the media and Democratic strategists no longer emphasize the budget related portions of the IRA, a prerequisite for reconciliation bills, but have shifted to calling the legislation the most significant clean energy and climate change bill in history. It's not unusual for Congress to name, or misname, bills in order to gain political favor, and we should even expect it in this age of extreme polarization. Consider the USA PATRIOT Act, which actually stood for the Uniting and Strengthening America by Providing Appropriate Tools Required to Intercept and Obstruct Terrorism Act. Voting against this bill implied being weak on national defense at best and a terrorist sympathizer at worst, when support for the bill actually meant that the government could spy on citizens. Then there was the Patient Protection and Affordable Care Act, more commonly known as Obamacare, which neither protected patients from losing their physician nor made health care more affordable. And who could forget the American Recovery and Reinvestment Act also known as the "stimulus bill." The legislation was intended to spur recovery but instead led to persistently high unemployment, stagnant wages, and the worst recovery since World War II; the bill was successful in its effort to "reinvest" in providing handouts to politically favored special interests. Before taking at face value the name of any bill moving through Congress, please contact the Washington office—you really can find out what's in a bill even before it is passed.  
Thought Leadership—from our Associations, Think Tanks, and Consultants:
Capital Alpha Says Demand Economics Will Lead Gasoline Prices to Rise.  Gasoline prices are going to rise between now and the end of the year. The recent price drop will not continue due to a variety of refined product market conditions in addition to crude oil price strength. President Biden has tied gasoline prices to the midterm elections by giving credit to the SPR release for driving down the price of gasoline and helping to "moderate" inflation. While the White House's crusade to lower prices joined the anti-gouging efforts towards gasoline in Congress earlier in the year, refiners, marketers, and retail management see continued signs of firm demand along with weak inventories and robust exports to a world short of key refined products.
Conference Board Sees Increasing Headwinds to Global Economic Growth. Despite weakening growth prospects across multiple economies, the global economy is not currently in recession. Jobs in many economies are plentiful, and business and household balance sheets are generally in good shape. Global trade and industrial production through May were still expanding well above average growth rates seen over the previous decade. Moreover, despite quarterly GDP contractions in China and the U.S., GDP reports elsewhere continue to beat expectations. However, headwinds to global growth are expected to increase in coming quarters. Global leading indicators point to weakening momentum, and global purchasing manager indexes are sliding and nearing contractionary territory. In fact, The Conference Board expects mild recessions to occur in the U.S. and Europe later in 2022 and into early 2023. China may escape recession, but will experience, at best, only a modest recovery, as it is rebounds from lockdowns. The forecast for global GDP is 2.7% percent growth in 2022 and 1.7% in 2023. Global and regional monthly economic reports from The Conference Board are available from the Washington office.   
Eurasia Group Believes Permitting Reform Will Face Major Hurdles. Prior to voting on the Inflation Reduction Act (IRA), Sen. Manchin (D-WV) rolled out the framework of a follow-on deal to streamline permitting for energy projects, including both oil and gas and renewables. While much of the focus has been on the effort to secure approval for additional oil and gas projects, permitting reform would also be a positive for renewables. For example, the U.S. currently has 18,581 MW of offshore wind undergoing permitting review, and a streamlined review process would drastically accelerate rollout. Politically, however, getting a deal on permitting reform will be challenging—progressive Democrats, already opposed to the oil and gas provisions in the IRA, would be unlikely to back another effort seen as boosting fossil fuels. And Republicans, burned by Manchin's abrupt about-face on reconciliation, are unlikely to extend much in the way of cooperation to make a deal work.
National Journal Calculates that the 2022 Election Will be the Most Expensive Ever.  New reports project that campaign spending in this cycle will top $9.7 billion, the most expensive midterm election in history. In fact, through the end of July 2022, this election cycle has outpaced 2020 by nearly $700 million. Of that $9.7 billion projection, slightly more than half, 52%, is projected to be spent on broadcast ads. The fastest growing area of ad spending is on connected television—digital content accessed by apps and streaming over smart TVs and mobile devices; this field is increasingly important as voters "cut the cord." Spending in the 2022 cycle is already outpacing the 2020 presidential election, due in part to the 38 gubernatorial elections this cycle. In the past several weeks, there has been a massive uptick in spending on abortion-related ads following the Supreme Court's overturning of Roe v. Wade. Analysts estimate that Democrats have spent nearly eight times as much as Republicans have on ads talking about abortion—$31.9 million compared to $4.2 million.
In Other Words (Quote): 
"What Republicans ought to do if this thing passes, we should defund all of these entities and commit to repealing this bill on day one if the American people give us the power and control in the House. We should fight this with everything we have, no more speeches, no more here's what we're gonna do, no more hearings, come in on day one and shut this government down, shut it down until they stop screwing the American people."
–Rep. Chip Roy (R-TX) just before the House passed the IRA.
"Guys, $20 for crudités, and that's before the tequila! I mean, it's outrageous. We've got Joe Biden to thank for this."
-Pennsylvania Senate candidate and celebrity Dr. Mehmet Oz (R) shopping for groceries.  
"I believe so. We'll win the majority, and I'll be speaker. Yes,"
–House Minority Leader McCarthy (R-CA) on the eve of the ouster of Rep. Liz Cheney (R-WY).
"Abraham Lincoln was defeated in elections for the Senate and the House before he won the most important election of all,"
–Rep. Liz Cheney (R-WY) in her concession speech.
Did You Know:
Franklin D. Roosevelt was the first sitting American president to travel internationally by airplane; Dwight Eisenhower was the first president to travel by jet and helicopter; and Gerald Ford was the first sitting U.S. president to visit Japan.
GRAPH of the Week:
Committee for a Responsible Federal Budget Says Cancelling Student Debt Would Undermine the Inflation Reduction Act. Some analysts argue that the Inflation Reduction Act (IRA) will reduce budget deficits by roughly $275 billion while also assisting the Federal Reserve in its fight against inflation. However, an announcement by the White House to offer student debt cancellation would undermine the bill's disinflationary gains and deficit reduction. Simply extending the current repayment pause through the end of the year would cost $20 billion—equivalent to total deficit reduction from the first six years of the IRA—while cancelling $10,000/person of student debt for households making below $300,000 a year would cost roughly $230 billion. Combined, these policies would consume nearly ten years of deficit reduction from the IRA.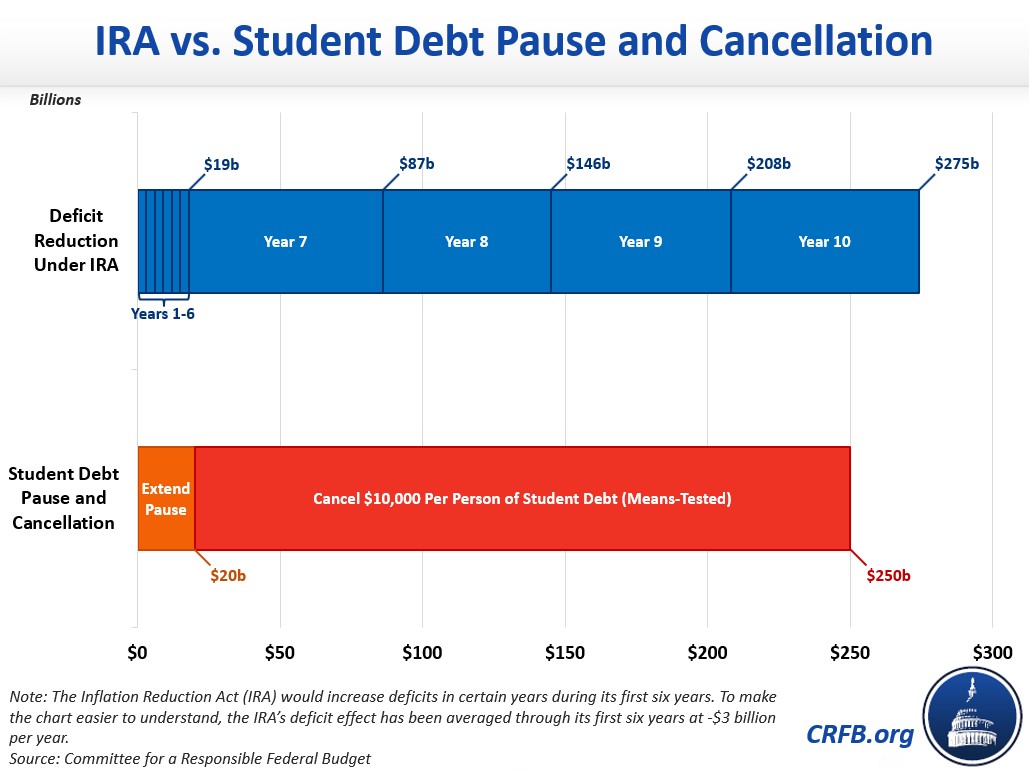 .