Thought of the Week:
I have a bad back; it's the product of 20th century golf swing mechanics and the hundreds of practice range balls I used to beat daily as a competitive golfer in my teens and twenties. It first flared up just a few days before the Yale University Collegiate Invitational, a major Division I college golf tournament, during my sophomore year. While the pain can be debilitating, then, I could seek treatment in our team room from university trainers; today, its strain seems to come up at the worst times, and I'm told that improving my core strength is the only real treatment. The Republican Party has a bad back, it's called abortion politics, and it also seems to flare up at the worst time—Election Day. This past week's off-year elections did not turn out to be a referendum on President Biden's age and popularity, inflation, or even the border; rather, the election results underscored the political power of abortion rights. Abortion is an issue that benefits Democrats, and the pro-access position has won 100% of the time it has been on the ballot. That juggernaut continued this week with a referendum in Ohio; rejection of Republicans' call for a 15-week ban in Virginia, and in Kentucky, where incumbent Democratic Governor Beshear won reelection after criticizing his opponent's staunch anti-abortion stance. Ahead of the 2024 presidential election, Tuesday's results should serve as a warning to Republicans and encouragement to Democrats. The Ohio outcome is likely to resonate most forcefully. The vote on the state's ballot measure wasn't even close, and it continued a string of victories for Democrats following the Supreme Court's decision last year to overturn Roe v. Wade and the constitutional right to abortion. In a state that has trended so far right it's no longer a presidential battleground, Ohio's result affirms that abortion rights is the rare issue that can rally both hardcore liberals and moderate voters. Abortion's potency assures that Democrats will put the issue at the center of their campaigns for president and Congress next year. However, drawing conclusions from this past week's vote does come with some caveats—off-year elections lack the media fanfare and attention-grabbing advertising that shape presidential contests; they don't draw as many casual voters; and the president isn't directly on the ballot. Inherently, these factors make their lessons of limited applicability to a presidential campaign cycle. Regardless, the results do offer a broad gauge of public sentiment a year before voters decide the presidency, the Senate, and the House. Despite the consistent results, Republicans still have not been able to unify around a consistent message on abortion, including whether there should be federal restrictions, what exceptions should apply, and how late into a pregnancy the procedure should or should not be allowed. One silver lining for the GOP is that the results seem consistent with the idea that President Biden is personally less popular than are Democrats in general. As such, this year's results do not necessarily herald a Biden victory next year. Following this election and going into 2024, energy seems on the Democrats' side. As long as Republicans embrace unpopular abortion stances and run extreme candidates, they'll under-perform. The Grand Ole Party is going to have to improve its core strength if it doesn't want its bad back flaring up on November 5, 2024. 
Thought Leadership from our Consultants, Think Tanks, and Trade Associations
Charlie Cook Says President Biden's Reelection Challenge is Far Greater than Commonly Believed. While a Biden popular-vote victory is still possible, his challenge of capturing 270 Electoral College votes is substantially more difficult than national polls suggest. Although pollsters have released an enormous number of polls over the last year, almost all have been national surveys or from early primary and caucus states. A new set of polls from the six swing states that Biden carried by the narrowest of margins in 2020 found the incumbent trailing in five of the six—Arizona, Georgia, Michigan, Nevada, and Pennsylvania—while leading by a small margin in Wisconsin; other polls have showed much the same result. Using the results from recent surveys, and assuming that all the other states, D.C., and each district in Maine and Nebraska fall exactly as in 2020, Biden would fall short of the 270 electoral votes needed to win reelection. Democrats and Never Trump Republicans make two mistakes when analyzing the 2024 race. First, they assume that the election will be a referendum on Trump—his character, behavior, and approach to governing.  Second, Democrats assume swing voters will see Bidenomics and the president's economic policies in the same, positive way they do. How Democrats see Bidenomics is a far cry from how the broader electorate sees it. The 2024 election is very likely to be the first rematch since the 1892 contest between Grover Cleveland and Benjamin Harrison. This kind of side-by-side comparison invites voters to ask themselves whether they were better off under the predecessor or the successor. The polling is pretty clear on that point: the widely accepted view is that people were better off before than they are now. As much as Democrats believe voters should focus on low unemployment and high GDP-growth figures, it seems that after three decades in which inflation seemed to exist only in history and economic textbooks, its resurrection has had a searing effect on how people perceive Biden's economic stewardship. Their focus is on the cost of living, not the actual inflation rate; so, although the rate of inflation is in decline, the cost of living is substantially higher than it was in January 2021. This election may be setting up not just to be a choice between Trump and Biden, but a choice between how voters view their lives between Jan. 20, 2017, and Jan. 20, 2021, and their lives since. When listening to focus groups, it is not uncommon to hear complaints that prior to Biden taking office, inflation was in check, the Russians weren't invading Ukraine, Hamas was not attacking Israel, and tensions with China were muted. The comparison may not be apples-to-apples, but voters get to decide what is and isn't fair game—not pollsters, policy wonks, or journalists. 
Eurasia Group Reports on New York Times Poll that Set Off Alarm Bells in the Biden Campaign. A New York Times/Siena College poll showed President Biden trailing former president Trump in five of the six swing states that will likely decide the 2024 election. While all polls need to be looked at in context and mindful of polling error, the recent Times poll shows that the 2024 election will be extremely competitive because of the deep unpopularity of the two major candidates. That the poll did not include a named third-party candidate—such as independents Robert Kennedy, Jr. and Cornel West—is a major drawback. Kennedy currently receives a vote share in the teens and draws slightly more from Trump's support than from Biden's, which could shift close margins in swing states. Biden's major weaknesses in the poll are his age—71% of voters, including 51% of Democrats, believe he is too old to be an effective president—and voters' negative perceptions of economic conditions. Biden polls significantly worse than does a generic Democratic candidate, suggesting that the Biden campaign needs to ensure the election is not a referendum on the president himself. With the election still a year away and the general election campaign having yet to begin in earnest, the poll should be taken with a grain of salt. Former president Obama faced similar polling gaps to a Republican candidate in late 2011, and Biden will still have an opportunity throughout the campaign to remind voters what they do not like about Trump. 
Institute of International Finance's (IIF) U.S. Macroeconomic Outlook for 2024. There have been two very large macroeconomic surprises in 2023. The first is that the U.S. did not go into recession after Silicon Valley Bank (SVB) failed. The second is that inflation fell much faster than the consensus expected. Going forward, the consensus forecast, which IIF agrees with, is for a near-term dip in growth as rising yields weigh on the housing market. Longer term, however, IIF's 2024 growth forecast remains substantially above economic consensus at 2.0%. One primary reason for IIF's contrarian opinion is their view that core Personal Consumption Expenditures (PCE) inflation will continue to keep falling rapidly, reaching 2.5% by the end of 2024, as fading post-COVID supply chain disruptions continue to pull core inflation lower. In fact, markets now price in as many as three 25 basis point cuts from the Federal Reserve through the end of 2024, which IIF believes is reasonable given rapid disinflation and mounting geopolitical risks. 
"Off the Record" 
GOP frustration with Sen. Tuberville (R-AL) over his hold on military promotions has been simmering on the back burner for months. Now, with war in the Middle East, Russia's ongoing invasion of Ukraine, escalating tensions between China and Taiwan, and even FBI Director Wray warning lawmakers of new threats to the U.S. following Hamas' attack, it may finally boil over. Additionally, there's new pressure coming from inside the Senate. Senate Majority Leader Schumer (D-NY) has backed a proposal to temporarily change Senate rules to allow most military promotions to be confirmed en bloc; that is, with a single vote. The idea—proposed by Sens. Reed (D-RI) and Sinema (I-AZ)—would need 60 votes on the floor to pass, meaning nine Republicans would have to join with all Democrats and Independents. Will irritated GOP senators join with Democrats to circumvent Sen. Tuberville's holds? It's suddenly not inconceivable.
In Other Words
"I just warn you. If I'm reelected I'm not going to change a whole lot," President Biden during a campaign reception in Minneapolis.
Did You Know
To boost the economy by creating an extra seven days of Christmas shopping, President Roosevelt [FDR] in 1939 moved Thanksgiving one week earlier than the last Thursday in November. Not surprisingly, the issue divided Americans along political lines, but the business world was delighted with the change. At the time, the president of Lord & Taylor predicted that the change could generate as much as $1 billion of additional business, the equivalent of nearly $20 billion today. While Thanksgiving had been observed on the last Thursday of November since President Lincoln proclaimed it a national holiday in 1863, in 1939, November had five Thursdays, and the last one, on Nov. 30, left a short window for the Christmas shopping season; back then, retailers did not promote the Christmas season until after Thanksgiving. 
Graphs of the Week
GEN Z Increasingly Brings Politics into the Workplace. A new survey conducted by Glassdoor found that while 82% of employees overall are comfortable working with those with very different political views from their own, the share falls to 72% among Gen Z. "More so than either Gen X or Millennials, Gen Z has come of age at a particularly fractious moment for American society. The tumultuous experiences of the past few years will likely cast a long shadow over their lives," Glassdoor Chief Economist Terrazas said.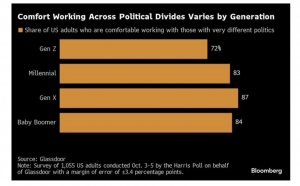 Third-Party Candidates Remain a Wild-Card Factor. With both major parties' candidates deeply unpopular, 2024 will be the most favorable environment for third-party candidates in a generation. Buoyed by his family name, Robert Kennedy is polling in the teens—and as high as 22%—while Cornel West garners in the mid-single digits. While West, who is far left, will siphon off some Biden supporters, particularly in the wake of the Israel conflict, polling suggests that Kennedy draws more from Trump's vote than Biden's. This could consequentially shift margins in closely contested swing states. A No Labels third-party candidate is also a possibility.