Thought of the Week
Holiday get-togethers in Washington often include an eclectic mix of people from all across the political spectrum. Last weekend, my wife and I hosted a dinner with friends that included a high-ranking official from the Bush and Trump administrations, an immigration attorney, a Montgomery County Maryland elementary school principal, and the commanding police officer of the Washington Metropolitan Area Transit Authority. As you might suspect, political opinions were all over the map concerning topics that, among others, spanned Covid relief, the Inflation Reduction Act (IRA) and inflation, abortion, former President Trump and Hunter Biden's laptop, crime, climate change, immigration, and entitlement expansion. Although no problems were solved and no minds were changed, there seemed to be near unanimous agreement that the 117th Congress, regardless of what may, or may not, occur in the current lame duck session, has largely been a broken, do-nothing, and gridlocked body over the past two years. Although I understand that just 22% of the public approves of the job Congress is doing, as a lobbyist, I found the notion that Congress did nothing this cycle not only inaccurate but a bit disconcerting. Just two weeks ago, Congress passed a bill to avert a national rail strike, and at the time of the dinner was on the verge of passing a same sex marriage bill. In fact, the 117th Congress enacted more than 200 laws, at least 150 of which are considered significant. Overall, Congress passed bills that sought to get more baby formula to market, deliver aid to Ukraine, increase benefits to veterans, and expand access to mental health services. This Congress passed a Bipartisan Infrastructure bill (BIF), and the largest green energy bill in history—the Inflation Reduction Act (IRA). Beyond legislation, congressional staff handled thousands of constituent requests, and the Senate approved four treaties and hundreds of nominations. The underlying truth is that the productivity of this Congress was on par with recent Congresses. It was then that it dawned on me that perhaps a result of the media's near singular focus on congressional dysfunction, even savvy voters fail to look beyond the day's headlines to the number of bills passed into law and/or the number of oversight hearings held. Sure, they may have followed the abortion debate, the election returns, or progress on a pet issue, but beyond that, the consensus seemed to be that the system is broken. By no means am I positing that Congress is a well-oiled machine or couldn't do better; in this very blog I've urged Congress to return to regular order. However, as a business, we do not have the luxury to write off Congress as gridlocked; we need to recognize that it is in fact quite busy and productive. The legislation that passes turns into thousands of pages of regulations that will impact our operations. The 118th Congress will begin on January 3. To track legislation related to your business as it passes through the congressional pipeline, please reach out to the Washington office.  
Thought Leadership from our Consultants, Think Tanks, and Trade Associations 
Eurasia Group's Ian Bremmer on the Lessons from the U.S. Midterms for the 2024 Presidential Contest. Any open questions about President Biden running again have largely been put to rest by recent legislative successes and the outcome of the midterm elections. Although his age/health remains a serious concern, Democratic leadership seems prepared to leave it to the president and his family to decide. While Biden hasn't made any final decision yet, those closest to the president (in and out of the administration) think he's at least 80% in. The Republican nomination is a different matter entirely. While former President Trump has lost a lot of momentum and is easily at his weakest point since the weeks following January 6, he bounced back from that, entirely on the back of grassroots support. However, this time around, the former president has also lost the backing of some major Republican power brokers. Still, for many core Trump supporters, that's a feature not a bug. In fact, the idea that a small number of powerful, monied elites decides who gets to run the party while "regular Americans" don't get a voice is exactly why many decided they wanted someone like Trump in the first place. Trump's weakness likely guarantees that there's going to be a wide open field. While the easiest way to beat Trump in the primaries is if other republicans "clear a lane" for a strong opponent, there's no such discussion taking place to date among likely candidates. It would be stunning if fewer than 8 serious candidates declared, which implies a strong Trump presence is virtually guaranteed in early races. In short, any call on the Republican nomination (and, specifically, whether or not Trump gets a re-run) at this point carries extremely low confidence.
Inside U.S. Trade Reports that the USTR Will Not Remove Steel, Aluminum Tariffs Despite WTO Rulings. Following the release of a series of dispute panel reports that determined the duties violated WTO rules, the U.S., through the Office of the U.S. Trade Representative (USTR), said it would not lift Section 232 tariffs on steel and aluminum. The release of reports—for disputes with China, Norway, Turkey, and Switzerland—came after the Norwegian government prematurely published a statement touting the verdict on the U.S. tariffs. The duties were imposed by the Trump administration under Section 232 of The Trade Expansion Act of 1962, which gives the president broad authority to impose tariffs in service of national security. "The Biden Administration is committed to preserving U.S. national security by ensuring the long-term viability of our steel and aluminum industries, and we do not intend to remove the Section 232 duties as a result of these disputes," Assistant USTR Hodge said in a statement. "The United States strongly rejects the flawed interpretation and conclusions in the WTO Panel reports released today regarding challenges to the United States' Section 232 measures on steel and aluminum brought by China and others," he added. Going forward, the U.S. can appeal the rulings to a nonfunctioning Appellate Body, leaving the cases in limbo and allowing the U.S. to continue with the tariffs largely unimpeded, or it can choose to keep the duties, not appeal, and face retaliation, likely in the form of retaliatory tariffs, from the winning parties. The USTR's statement also says the Biden administration stands behind the argument its predecessor advanced at the WTO regarding the duties: that the WTO has no jurisdiction to review actions taken by a member in service of its national security.
Observatory Group and Conference Board Have the Same Reaction—More Rate Hikes to Come. In a move telegraphed well in advance, the Federal Reserve raised its policy rate target by 50 bp and maintained expectations of ongoing rate hikes—median policy rate projections for 2023 show a peak rate in the range of 5.0-5.25%. When asked about the size of a potential hike at its next meeting in February, Chair Powell said the FOMC is focused on how high rates need to go to be sufficiently restrictive, not so much on the size of future moves, stressing that any moves will be data dependent. While another positive core inflation report in mid-January could open the door to a 25bp, rather than 50 bp, move in February, this would require that the data show both slowing inflation and a slowing economy. Asked if the FOMC was confident that it is getting inflation under control, the Fed Chair offered something other than gloom, saying that the last two months of core inflation show a "welcome reduction," but that the Committee needs "substantially" more evidence before concluding that inflation is on a sustained downward path. Importantly, the welcome inflation data has given the FOMC greater confidence in its expectation that inflation will slow, and unlike recent projections, the current data keeps hope alive that a pattern of slowing inflation will emerge soon enough to yield a pause in rate hikes at around 5%. Chair Powell emphasized that the FOMC is realistic about the broader story that inflation remains far too high and that there is a ways to go to get back to 2%. In terms of overall financial market conditions, the Fed Chair said that it is important they reflect policy stances, and he repeated that the current stance is not yet sufficiently restrictive. The implication being that there may be a point at which rate hikes might have to continue longer if the transmission to financial markets is viewed as incomplete and the slowing of inflation is less than expected. 
"Off-the-Record" 
Takeaways from The Conference Board's December Economics Forecast:
Global economic growth will slow next year. The U.S. and Europe are expected to go into brief recessions early next year. Europe likely went into recession in Q4 2022.  
China and developing Asia will contribute to global GDP. While the GDP growth forecast for the U.S. is flat at 0% next year, expected global GDP growth of 2.1% will largely be driven by China, India, and other emerging Asian economies. 
Effects on the labor market will be industry specific. The forecasted recession is expected to be more industry-specific compared to previous ones. Industries with the greatest job openings will be those requiring work in person, such as leisure, hospitality, health care, and manufacturing. In fact, these industries never recovered from the job losses that occurred during the pandemic.
Labor shortages are here to stay. Many current labor shortages are due to aging demographics. Although labor shortage intensity will soften, shortages will not disappear unless public policy changes are made to immigration and to incentivize older generations to work later.
In Other Words
"I registered as an Arizona Independent," Sen. Kyrsten Sinema (I-AZ) on why she chose to change her party affiliation.
"I'm 84 years old. Nothing surprises me. I've been around," Rep. Maxine Waters (D-CA 43) on the arrest of Sam Bankman-Fried.
Did You Know
Each year, a different national forest is selected to provide a tree to appear on the west lawn of the U.S. Capitol during the holiday season. The 2022 tree is a 78-foot Red Spruce from the Pisgah National Forest in North Carolina (see picture at end of this blog). Along with 1974 and 1998, this is the third time the Capitol Christmas Tree has come from the Pisgah National Forest.
Graph of the Week 
Despite Easing Inflation Conference Board Still Sees a Recession in the U.S.'s Future. The headline Consumer Price Index (CPI) eased again in November along with Core CPI, which excludes food and energy. Although this is welcome news, much work remains to be done to bring inflation down to normal levels. Additional interest rate hikes are expected over the coming months and a recession early next year.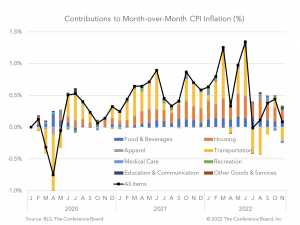 SEASON'S GREETINGS; HAPPY HOLIDAYS; MERRY CHRISTMAS; HAPPY NEW YEAR