Thought of the Week:
Closing one's laptop at exactly 5 p.m.; completing only specifically assigned tasks; meeting the strict outlines of a job description. Sound familiar? It was one year ago this week that I wrote in this blog about the very real management concern called "malicious obedience". If you remember, malicious obedience is when employees end up doing exactly as told, no more, no less, no matter the outcome. Managers, often unknowingly, promote malicious obedience by solving every challenge their employees face. Over time, this "saving of the day" can lead to dependency, may stifle growth, and in the end promote malicious obedience. The solution: offering concern, advice, deep discussion, clear goals, and true mentorship. One year later, many of the same characteristics associated with malicious obedience can be seen in a similar, but no less troubling, dilemma, which few saw coming pre-pandemic, called "quiet quitting." This week, new research from Gallup estimated that as many as half of American workers can be described as "quiet quitters," meaning they fulfill their job duties but are psychologically detached from their work. According to Gallup, 50% of workers meet the definition of quiet quitters, and another 18% identify as fully disengaged. No doubt, quiet quitting emerged as a prevalent mindset when the pandemic simultaneously upended employees' priorities and companies' workplace policies. In fact, Gallup began to see employee engagement sink in late 2021, when workers indicated that they felt less connected to their organization's mission, felt less clarity about what's expected of them, and saw fewer opportunities to learn and grow. Among the effective interventions Gallup recommends to boost engagement is for managers to have at least one in-depth conversation per week with each team member that lasts 15 to 30 minutes. Although  managers are essential in the fight against quiet quitting, this may prove challenging for employers as managers are among those who have experienced the greatest drop in engagement; only one-third of managers say they are engaged in their jobs. However, workplace advocates say "quiet quitting" is a misnomer, and is really about carving out time to take care of oneself. They believe the term stems from pro-corporate propaganda and a culture of overwork without additional compensation. For them, quiet quitting is more a response to this culture and burnout. These advocates hold that employees are merely "quitting" going above and beyond and declining to do tasks for which they are not paid. Workplace culture has gone through many changes during the pandemic, including the "Great Resignation," and "quiet quitting" seems to be in line with this larger reevaluation of how work fits into people's lives, not the other way around. Workplace advocates go as far as contending the term "quiet quitting" is offensive because it suggests that people who do their work have somehow quit their job and shirking workplace responsibilities. For employers dealing with workers who exhibit signs of quiet quitting, the advocates' message is clear: pay more for extra work. Whether an employer or employee, "quiet quitting" is real. A TikTok video on the subject posted in July has gone viral, gaining more than 8 million views. With 68% of American workers either psychologically detached or fully disengaged from their work, "quiet quitting" is an issue all companies will be contending with as more employees are asked to come back to the office.
Thought Leadership from our Consultants, Think Tanks, and Trade Associations
American Enterprise Institute (AEI) Holds that Documents at Mar-a-Lago Were Not Trump's to Take. While the FBI has offered a rough inventory of how many top secret, secret, and confidential documents it found at Mar-a-Lago, we have no idea what is in the documents, why they were classified, whether they had ever been declassified, or whether any potential harm could come to the U.S. or American allies from the documents. It is possible that there were state secrets in the pages President Trump kept in his desk, but it's also possible there is nothing important or dangerous on any of the documents. How could classified documents not be sensitive? Well, because the government classifies everything, and government bureaucracies have every incentive to over-classify. It's a risk-averse approach, and there's no penalty for erring on the side of caution. Given the widely acknowledged plague of over-classification, it cannot be concluded that Trump had sensitive documents just because he had classified documents; more information would be needed to come to that conclusion. What can be concluded is that the former president had documents he should not have had—because they are not his. The Presidential Records Act makes clear that the president does not own the files, briefing papers, memos, or emails he sends or receives as president. The people do. A presidential record is defined as a document or other material that is created by or for the president or received by the president "in the course of conducting activities which relate to or have an effect upon the carrying out of the constitutional, statutory, or other official or ceremonial duties of the President." While Trump was president, the documents were not his; instead, he was merely the custodian of the records. President Trump never owned these documents, just as he never owned the White House or Air Force One. The public owned those documents, and the president was their caretaker. Once he was no longer president, Trump had no control over them. Because these documents were not his, Trump was supposed to return them, and the government had the authority to retrieve them. Federal law explicitly orders the Archivist to work with the Justice Department to recover government records improperly taken. It seems: the National Archives repeatedly asked; Trump repeatedly blew them off; and that left the DOJ feeling it had to raid his house to get them.
Bloomberg Reports that the U.S. has Started Broad Economic Talks with 13 Nations to Counter China. The U.S. is set to host the first gathering of Asian nations on an economic agreement intended by the White House as a counter to China's rising influence in the region. Thirteen countries are expected to send representatives to the two-day kickoff event starting September 8 in Los Angeles for the Indo-Pacific Economic Framework for Prosperity (IPEF). The IPEF covers about 40% of global gross domestic product, and it includes Japan, India, South Korea, Australia and Indonesia, all members of the Group of 20 largest economies. While the framework is the most significant U.S. economic engagement in the region since Donald Trump pulled out of the Trans-Pacific Partnership in 2017, President Biden's effort is thin on specifics and is expected to stop short of reducing tariffs like a traditional free-trade agreement.
Delve Sees Many Industries Caught in a Web of Investigations if the GOP Digs Into the White House. "There is a massive backlash coming. You will rue the day when it hits you. That day is November 8, 2022." Senator Scott's (R-FL) declaration to "woke Corporate America" is just one of many warning signs that the expected Republican takeover of at least the House of Representatives, and possibly the Senate, will not provide relief for companies and industries from excessive regulation and taxation. Instead, Republicans are likely to follow what Democrats did after the 2018 midterm election and exert full oversight authority over an Executive Branch held by the opposing party. As they did in January 2019, companies and industries will find themselves caught in the crosshairs. That's because everything from the post-2008 financial crisis bailouts to more recent engagement by companies on social issues and environmental, sustainability, and governance (ESG) initiatives has led an increasing number of conservatives to question whether or not the interests of Corporate America align with their own. Companies should not wait to prepare for the potential whirlwind of investigations as many Republican members, including those who will likely be chairs of key committees and oversight subcommittees, have publicly pledged to put the Biden administration under a microscope should the party win back control in the midterms. Even as they aim for the President, the investigations will hit a wide range of companies and industries, including healthcare, energy, finance, auto making, big tech, Fintech, pharmaceuticals, student loans, and China.
Inside EPA Reports on Environmentalists' Derision of 'Sustainable' Jet Fuel. The Center for Biological Diversity (CBD) has attacked the Biden administration's plan to cut greenhouse gases from aviation by using sustainable aviation fuel (SAF), saying the raw materials for the fuel are unsustainable and not available in sufficient quantity. The White House's strategy relies on SAF, a biofuel, to provide liquid fuel for aircraft. Aviation remains one of the most difficult sectors to decarbonize, given the need for safe, energy-intense fuels and the inability of electric power to substitute for combustion engines. However, environmental groups say the administration is not pushing GHG reductions fast enough and is promoting a false solution in SAF. CBD contends that few of the feed stocks used to make SAF are actually sustainable. They note that "food crop-based feed stocks yield greenhouse gas emissions comparable to fossil fuels and create competition for food resources, while animal fats, animal manure, and wood biomass come from environmentally destructive industries." Although CBD believes municipal solid waste, wastewater sludge, and crop residues are potentially sustainable, they do not yield enough supply to meet the administration's biofuel target—only 4%-38% of the predicted 35-billion-gallon demand. CBD contends that to decarbonize aviation "the Biden administration must set strong airplane emissions standards that are not mired in the myth of sustainable aviation fuels, including fuel efficiency, operational and regulatory improvements, and ambitious advancement toward a fully electrified aviation sector."
In Other Words
"I don't hide this. We've got a team in Iowa," Former Secretary of State Mike Pompeo (R) hinting at his intentions for 2024.
Did You Know?
This week, President Biden unveiled the official White House portraits of former President Barack Obama and First Lady Michelle Obama—reviving a tradition set aside during the Trump administration. Presidential portraits in the Executive Mansion or White House date back to Gilbert Stuart's iconic painting of George Washington. First Lady Dolley Madison famously saved that painting when she and President James Madison fled Washington as the British burned the mansion in 1814 during the War of 1812.
Graphs of the Week
The National Defense Authorization Act (NDAA) is must pass legislation. The NDAA, which has been enacted annually for more than 60 years, is considered must-pass legislation because it authorizes military pay raises, weapons programs, and national security policy for the next fiscal year. The House and Senate Armed Services Committees have advanced their own versions of the fiscal 2023 NDAA, both of which would provide a 4.6% pay raise for service members and civilian personnel, limit coastal combat ship retirements, and reduce overall active-duty troop levels.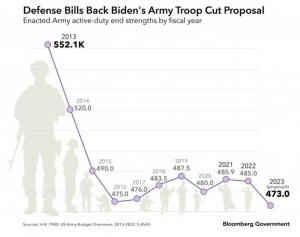 .